May 15, 2018
5 Anecdotes From the Embassy
Embassy Tales: Shliach's selfie on the cover, why Avraham Fried declined, Five Towns society, and who didn't meet Ivanka Trump.
By COLlive reporters

President Donald Trump fulfilled his promise to recognize Jerusalem as the capital of Israel and had the consulate in Jerusalem renamed as the official U.S. embassy in the country on Monday.

In a ceremony that was broadcast and closely watched around the world, American and Israeli officials joined for the inauguration of the embassy located in the Arnona neighborhood.

Here are 5 quick anecdotes we came across from the occasion:

1. Take Cover



New York Daily News was condemned over their nasty cover about the embassy opening. "Daddy's Little Ghoul," they wrote, showing the president's daughter Ivanka Trump all smiles at the opening alongside a bloody photo of an injured terrorist from Gaza.

Pro-Israeli tabloid readers, on the other hand, can take pride in today's cover of New York Post.

"This Year in Jerusalem" it read, showing Rabbi Yitzchak Kofman, Chabad Shliach in Grodno, Belarus, taking a smiling selfie with his son in front of the embassy.

Leave it to a Lubavitcher to provide the perfect photo-op of Chassidic attire, modern technology and current events.


2. Five Towns Society



When US Ambassador to Israel David Friedman took residence in Herzliya, he trusted only one person to kosher the kitchen: Rabbi Zalman Wolowik, Director of Chabad of the Five Towns in Cedarhurst, Long Island, New York.

The two have been Chavrusas (learning partners) for some 20 years, studying Tanach on a weekly basis. "When he got the appointment to become the ambassador, we just started learning Sefer Melachim (Kings)," the rabbi pointed out, alluding to Friedman's middle name Melech, which means king.

As a resident of the Five Towns, Friedman has been a regular at Chabad and prays at the Rebbe's Ohel in Queens. He extended an invitation to Rabbi Wolowik to present an invocation at the embassy opening, who shared the Rebbe's powerful message about seeking truth in this world.

Joining Rabbi Wolowik for a selfie were friends from the Five Towns - businessman Sholom Jacobs, author Gidon Shema, and activist Cindy Grosz. "What a proud moment for me and everyone affiliated with Rabbi Zalman and Chani Wolowik and Chabad of The Five Towns," Jacobs said.

3. Fried declined?



Jewish music star Avraham Fried does not support the anti-Israel BDS movement, but he still declined to perform at the inauguration of the U.S. embassy.

Fried, a resident of Brooklyn's Crown Heights, instead spent Monday night singing at a concert in Nahalal, a moshav in northern Israel that is mentioned in the Tanach as a city of the Levi tribe.

"A few days ago, the organizers of the event contacted me and asked that I appear at the event at the embassy and recite 'Shehecheyanu'," he said.

"The American side called my producer Yuval Stupel [with the request]. I told them that I would really like to come but there is a place called Nahalal where I'm performing that day..."

Technically, Fried could have made it. The embassy event concluded at 5:30 PM, while the concert in Nahalel only started at 8:00 PM and the drive is an hour and 37 minutes. But what do we know...


4. Torah, you shall pursue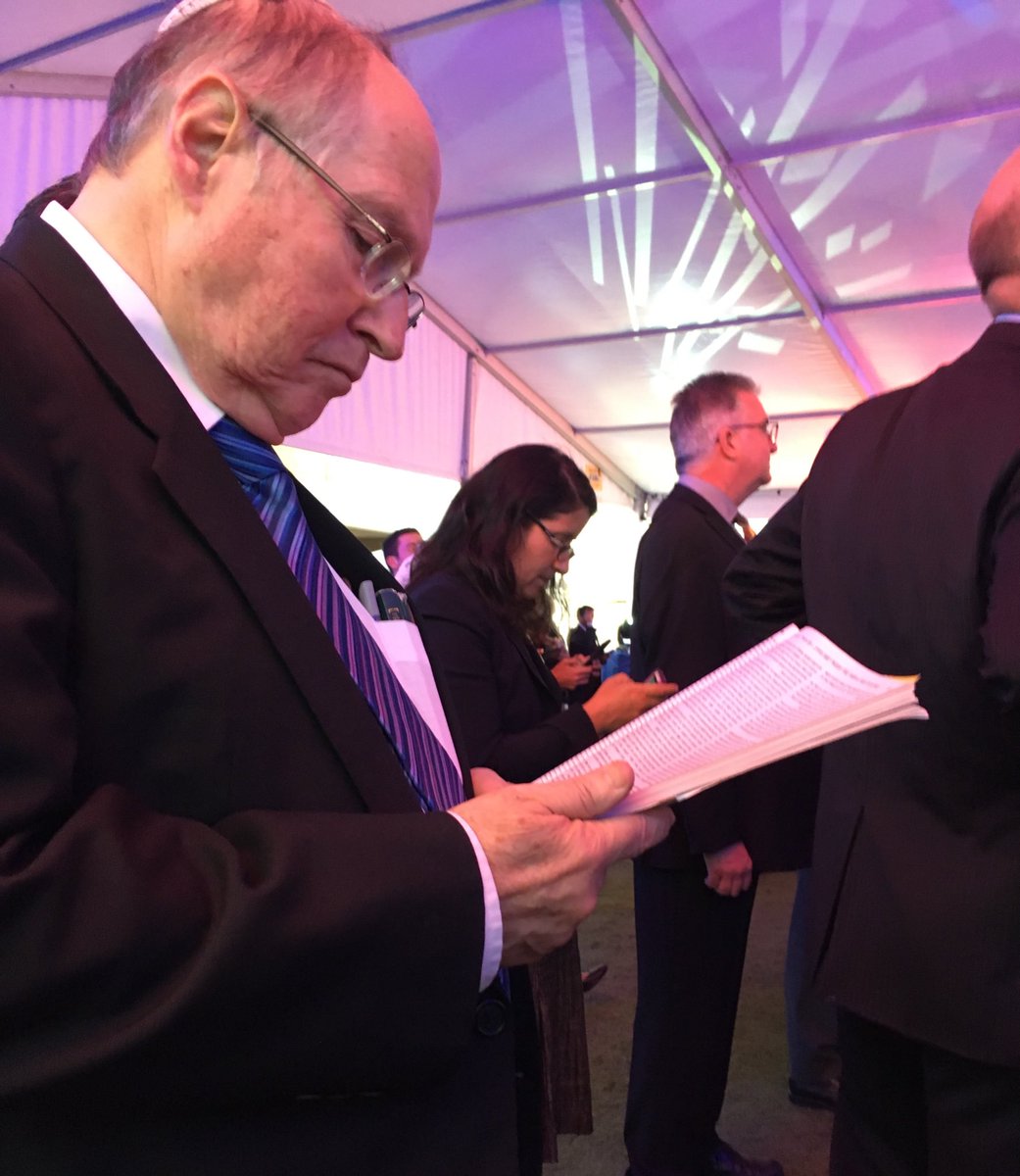 A day before the opening ceremony, Israel's Foreign Ministry held a dinner celebrating the occasion with the members of the American delegation representing the Trump administration.

Participants of the party were catching glimpses of the guests from across the Atlantic, such as Trump's son-in-law and daughter, Jared Kushner and Ivanka Trump, Treasury Secretary Steven Mnuchin and Deputy Secretary of State John Sullivan.

One participant, however, was photographed immersed in Torah study, oblivious to the prominent guest list: Elyakim Rubinstein, a former Vice President of the Supreme Court of Israel.

On Twitter, it was said he was studying "Mishnah Berurah (Halacha)", but we can assure you it was Chabad's weekly study booklet Dvar Malchus (which he used to take to the bench). Regardless, he sure has his priorities straight.


5. Yalla habibi!



Leave it to Al Jazeera to send representatives to the opening to point out which countries are supporting Israel.

Their website quoted Israel's foreign ministry, stating that while all 86 countries with diplomatic missions in Israel were invited to the embassy opening, only 32 attended.

Prime Minister Benjamin Netanyahu can be especially proud of the number of African countries which attended (11), a credit to his recent visit there and the growing diplomatic relations with many of them.

Either way, those that Al Jazeera might see as enemies, we see as friends.